Memorial Garden
A Lasting Memorial in a Secure and Tranquil Place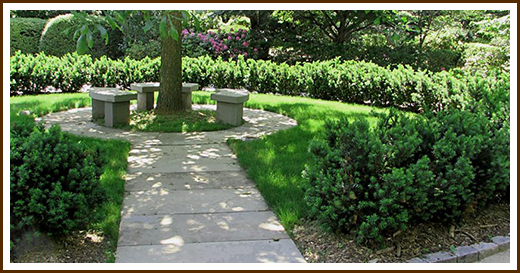 A memorial garden plot allows loved ones to touch a marked place and feel a connection to those lost - a powerful source of comfort and peace. Each memorial garden plot holds two urns.
The Cemetery recently created its second memorial garden, situated in the center of the tranquil Ketcham Circle section of the grounds, with Stone benches under the shade of a towering maple provide welcome seating for rest and reflection.
Contact us to learn more.

Frequently Asked Questions About our Memorial Garden
Are cement containers required for these types of burials?
Unlike traditional casket burials, no container is required for cremated remains.
What type of markers are provided?
Each burial place is marked with a 9"x 4" square granite marker with a bronze plaque for inscription.
Do you have pricing information for Memorial Garden Plots?
Yes, we do. For detailed pricing information, please call (516) 676-5290.
What is included when I purchase a plot in the Memorial Gardens?
Maintenance and perpetual care are included.